MarSurf–CM_mobile
Availability:In Stock
---
Please get a quote from us to purchase this product. To get a quote please fill in the Enquiry Form :
Select " Get A Quote " in Enquiry Purpose
Fill in the product you would like to get a quote for under our "Message Field"
GET A QUOTE :
CLICK HERE TO FILL THE ENQUIRY FORM
---
---
MarSurf CM mobile – universally applicable
The portable MarSurf CM mobile was developed in particular for measurements on large objects and samples that are
difficult to move, e.g., rolls and vehicle bodies.
MarSurf CM mobile is ready to use on site in a few minutes. The measuring system only needs a laptop, without an additional controller, for operation.
Since it only weighs 5 kg MarSurf CM mobile can be easily transported and used while travelling.
MarSurf CM mobile with a multi-objective is ideally suited for industrial application along the entire process chain. With an objective nosepiece and application specific software solutions MarSurf CM mobile fulfills the requirements of a wide variety of measurement tasks.
MarSurf CM mobile:
• Mobile application – measurement directly
on the component
• Compact system (5 kg) with motorized axes
• Robust and reliable for use in production
• High measuring speed – even at full
resolution
• User-friendly concept
• HD stitching – Consistently high resolution
even with large measurement areas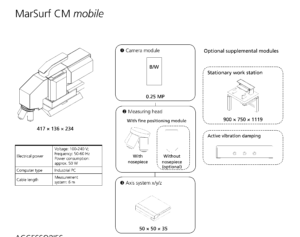 "